WELCOME TO CASTLE TINTAGEL
Tokyo's #1 Medieval Martial Arts Organization!
What is Castle Tintagel?
Welcome to Castle Tintagel! Our mission is to bring Medieval Martial Arts into the modern world. We hope you will join us.
Benefits of Membership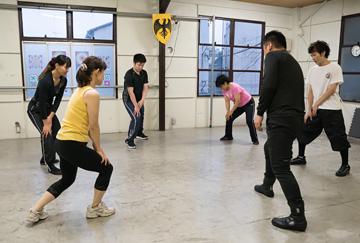 Fitness
Get in shape while you learn the skills of the medieval warriors! For some, this will be the first time they have ever had a reason to want to work out; for others, this will be the opportunity to test their bodies to the limit.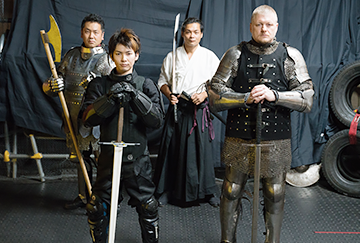 Fellowship
Castle Tintagel has a warm and open community of members from many countries. All ages, sizes, and genders are welcome!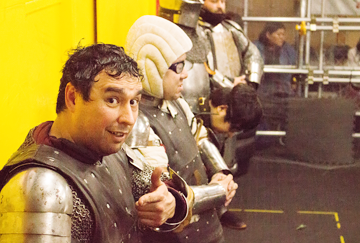 Fun
The resurrection of lost martial arts is interesting enough on it own, but Tintagel also has regular Tournaments, Challenge Days, and Cultural events. It's hard to get bored here.
What are Kishido and Bushido?
Curriculum
Castle Tintagel offers two paths to follow, depending on your interest. Our classes are based on authentic historical skills.
Kishido

Study Knightly Combat, both armored and unarmored. You will study 15th longsword, spear, halberd, weapon and shield, dagger, and grappling. Most of our martial arts are based in the German knightly tradition.

Bushido

Study Samurai Combat, armored and unarmored. You will study katana, yari, naginata, tanto, and grappling.
Class Schedule
Members may attend as many standard curriculum classes each month as are available.
What is Medieval Battle Sports
In Castle Tintagel, we keep a strong distinction between the martial arts skills classes, and the competitive systems used to test and hone our skills. Medieval Battle Sports (MBS) is a system of sports designed to help you improve as a fighter and to monitor your own progress. There are many options, so you can fight at your desired level of skill and safety.
Compete in either or both Light Battle activities and tournaments or Armored Battle activities and tournaments.
You might even go on to eventually join the Japan Armored Battle League, which holds regular team events using the MBS STEEL! Rules.
Membership Information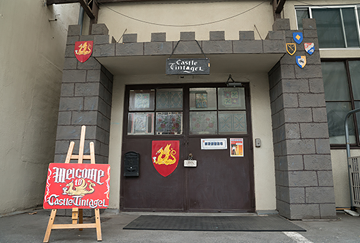 Castle Tintagel membership is based on a monthly fee. Membership Details are following. 
Membership fee and service charge
Regular Member Enrollment Fee (One time only):
¥10,000 + tax(includes sport insurance premium)
Regular Member

¥12,500
(with tax ¥13,750)/month

You can attend all classes and participate in all sparring practices.

Discounted Student Member

¥8,000
(with tax ¥8,800)/month

For high school and university students who are under 23 years old.(You need to show your student identification card) You can attend all classes and participate in all sparring practices as many as you like.

Distance Member

¥2,000
(with tax¥2,200)/month

It applies to person who lives outside the Kanto plain and the benefits are as follows:
You can attend any sparring practice, circle and event for a day once a month (excluding classes). From the second time on, you can attend those activities for 1/2 prices. You can take class for ¥3,000+tax.

Family Member

¥10,000
(with tax ¥11,000)/month

Your family members will each receive a discount on member dues.

Branch Class Member

¥10,000
(with tax¥11,000)/month

These are regular training programs held away from Castle Tintagel by a Certified Instructor. Usually these will be outside of the Kanto. If within the Kanto additional conditions may apply.

Branch Practice Member

¥8,000
(with tax ¥8,800)/month

This is a practice group led by a coordinator in charge of local group development.
Court of Tintagel Member
Court of Tintagel Enrollment Fee (One time only):
¥5,000 + tax(includes sport insurance premium)
First time to take a culture class or attend as a viewer pays a 5000 yen sign up fee, plus the lesson. At this point they are a provisional supporting member. Culture member need to enter the sports insurance system in case of accident at event. (must pay yearly renewal fee: original fee comes from the sign up fee.)
Branch Groups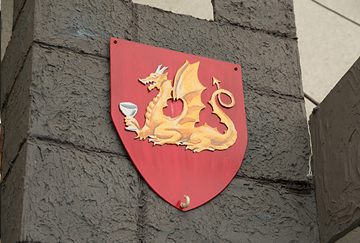 If you are too far away from our main school to enjoy practicing at Castle Tintagel regularly, we have Branch Practice groups forming all over Japan! Join a Branch or Form a Branch of your own! We need more knights!